DiSAC provides professional accreditation to qualified mediators.
[Disac does not yet provide professional accreditation for arbitrators, but is in the process of developing this.]
Are all Mediators accredited?
There is currently no regulatory requirement that mediators accredit themselves. This means that some people without the necessary qualifications hold themselves out to be mediators.
DiSAC provides industry supported certification of qualification and good standing. This accreditation is voluntary, and provides peace of mind to the public that a DiSAC accredited mediator meets the minimum industry standards for practice.
(Please note that lawyers are not automatically also mediators. Mediation is a different skill, and requires additional qualification.)
What does DiSAC Accreditation mean?
If a mediator or arbitrator is "DiSAC Accredited", it means that the Practitioner:
Has undergone approved training as a mediator/arbitrator
Was independently assessed and found to be competent
Has agreed to practice under supervision (and disciplinary processes) of an Accredited Service Provider
Has agreed to abide by the DiSAC Code of Conduct, and
Is subject to continued professional development requirements.
How do I obtain DiSAC Accreditation?
The process for obtaining DiSAC Accreditation
Mediators and arbitrators who meet the DiSAC Qualification Standards may apply for DiSAC accreditation. The process is as follows: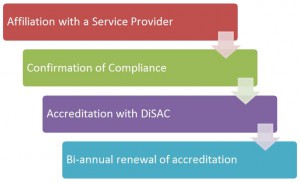 Affiliation with a Service Provider
Like most other countries, DiSAC follows a system of devolved accreditation. This means that:
All mediators and arbitrators seeking DiSAC accreditation must first affiliate with one or more of the DiSAC Accredited Service Providers ["ASP's"]
You can apply to any one of the ASP's for affiliation [click here to find details of the ASP's]
These ASP's are mandated by DiSAC to consider whether or not applicants meet the DiSAC requirements
Confirmation of Compliance
When mediators and arbitrators apply for affiliation with an ASP, the process is as follows:
If the applicant underwent training under an accredited training programme and was assessed and certified as competent, and meets all the other qualification requirements (see the Qualification Standards), the ASP may grant him / her affiliation
If an applicant did not undergo an accredited training programme, he/she may apply for accreditation on the basis of prior learning or prior experience (see the Qualification Standards). The ASP will assess this on a case by case basis
ASP's are entitled to introduce additional requirements (such as experience requirements) for affiliation. An applicant will have to satisfy all those requirements prior to obtaining affiliation with that ASP.
Accreditation with DiSAC
In all cases where an applicant has met the accreditation requirements and has been granted affiliation the ASP must provide a written statement to that effect to DiSAC, and request that the applicant be accredited as a mediator / arbitrator with the Council.
Upon receipt of such a request,  the Council must accredit the applicant as a mediator / arbitrator, and issue an accreditation certificate to the person, provided that DiSAC may request the ASP to provide further details or proof that the applicant has met all of the requirements before it so accredits the applicant.
The accreditation with DiSAC may be subject to an annual registration fee.
Once a mediator / arbitrator is accredited his/ her details will be enrolled in DiSAC's Accreditation Register, and the applicant will be allowed to use the DiSAC logo, and the words 'DiSAC Accredited Mediator/Arbitrator' (whichever may be the appropriate).
Bi-annual renewal of Accreditation
A practitioner's accreditation with DiSAC, shall automatically lapse after 24 months from the date of accreditation, and he /she will be required to apply for continued accreditation.
In order to qualify for continued accreditation as mediator an applicant must provide the following:
A letter of good standing from the ASP with which he /she is affiliated.
Proof that he /she performed a minimum number of four mediations / arbitrations or an equivalent in skills maintenance activity.
Proof that he / she participated in one or more continuing professional development programme on mediation / arbitration registered with the Council once every 24 months, and received a minimum of CPD points.
Does my mediator / arbitrator have DiSAC Accreditation?
DiSAC Accreditation Register
DiSAC maintains a register of accredited mediators and arbitrators.
DiSAC will upon request provide and/or confirm details of a specific practitioner's qualifications and areas of expertise, and of his accreditation with DiSAC. The information supplied will be limited to:
The name and qualifications of the accredited practitioner
His/her date of accreditation, and whether or not such accreditation is in good standing
Name of the Accredited Service Provider [ASP] through which they are accredited
DiSAC will not publish or provide any address or contact details of practitioners. Any requests for such information must be directed to the Service Provider [ASP] through which the practitioner is accredited.
Please read the DiSAC Privacy of Information Statement: